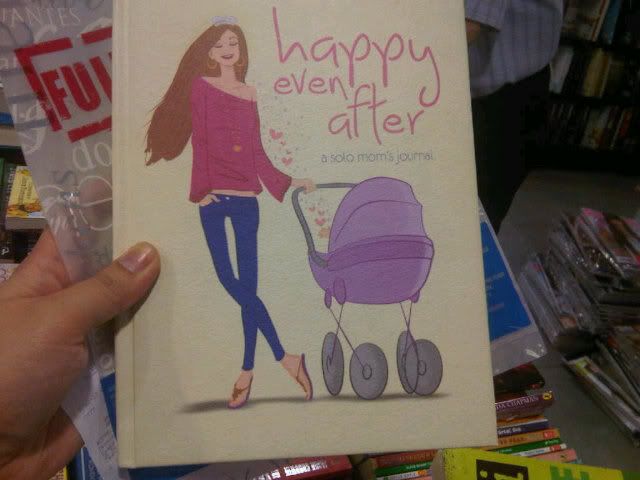 Jan.10,2012
I finally found and bought a copy of THE HAPPY EVEN AFTER -A SOLO MOM'S JOURNAL- at fully booked Greenbelt. ( well, my mom actually paid for it. i was like "MA I WANNA BUY THIS ONE, PANG SINGLE MOMMY SIYA OH", she gave me 500 bucks and she goes like, "YUNG SUKLI KO HA")…LoL!
—————————
I'm actually writing this blog while my Eldest is here at the hospital, He was admitted for a high fever and vomiting. I just cant sleep yet and i cant even eat but sure thing i can Blog ..:) Oh well I hope he gets better soon.
——————————
Everything i would love to know was squeeze-in in this cute journal❣
At the first few pages you can find the..10 COMMANDMENTS FOR SOLO MOMS
1. Thou shalt never feel sorry for yourself.
 
2. Thou shalt never make for your child falsehoods about his biological roots.
 
3. Thou shalt remember and keep holy thy weekends with thy children.
 
4. Honor thy father and thy mother. Be a good example to thy child.
 
5. Thou shalt not let thyself go. Stay beautiful inside and out.
 
6. Thou shalt not kill thyself by taking on too many responsibilities. Thou shalt remember to prioritize and delegate.
 
7. Thou shalt find thy own strength in one's self.
 
8. Thou shalt keep sacred occasional "me" time and not feel guilty about it.
 
9. Thou shalt teach thy child that love and families come in many different forms.
 
10. Thou shalt not covet other traditional families and remember that being on thine own is not the same as being alone.
———————————————————————
Happy even After is a journal with some Inspirational stories and spunky quotes from other Pinay solo moms and blank pages for you to start writing the story of your life–- the fairytale you deserve.